"You're going to Cormount? Ah, of course. Head north past Elden Root. You'll see a Temple of Y'ffre to the east, but keep going until you cross the bridge. You'll want to mind yourself around the locals, as they've never been so fond of outsiders, but try the Green Leaf Tavern, it's one of the few places you may feel welcome."
-Grahtwood Local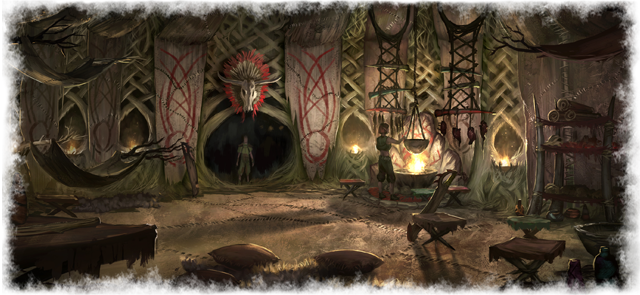 .::The Green Leaf Tavern::.
This bosmeri tavern and inn is composed of three tree-shaped structures.
The main hall is accessed from the ground, with an area for signing in and paying if you plan to spend the night. Some patrons gather here at the few tables, usually waiting for companions or settling down for a drink.
Out through this first chamber is the walkway, elevated around fifteen feet off of the forest's floor. On busy nights, this area can become crowded with guests.
Straight across you'll find the kitchen, where chefs prepare traditional bosmeri food and drink. If you're expecting bread, beer and wine you'll be sorely disappointed, but grab a mug of jagga and if you're feeling brave try a bowl of fried bee larvae. Whatever you do, don't attempt to order fruit, a salad or other vegetables, the chefs will likely take offense... and you don't want that.
To the left of the kitchen the walkway leads upward into the inn, where you'll find beds, a warm fire and a table. Extra animal furs are rolled up in corners, ready to be laid out on the floor.
If you find The Green Leaf too small or busy for you and your many companions, the alchemist's home, west down the road, is often available for rent.
The Green Leaf is most active on Wednesday evenings, with traders coming south from eastern Malabal Tor and Reaper's March, as well as many more coming north from Haven and Elden Root. While Cormount isn't known as the friendliest place to outsiders, the Green Leaf does it's best to be a sanctuary to all.
.::Minor / Optional Plotlines::.
Minor plotlines are meant to be "quests" that can be wrapped up in one sitting but may have implications for future events. The events are
meant
to be smaller in scope, affecting only a handful of people, and allowing people to ignore them if they / their character wants to. A bomb going off in the middle of the tavern is NOT a minor plotline. A shady stranger checking out of the tavern and leaving behind a note signed by a Daggerfall Covenant captain is. An invasion by daedra is NOT a minor plotline. A missing citizen and scream heard far into the woods is. The mad spinner story-line is not exactly what I intended for minor plotlines, the poisoning of the rotmeth and the bandits holed up in The Middens is. That's not to say you can't create your own large-scale plotlines, but I would advise against taking on something too big.
7/24/14
(Feel free to suggest future plotlines in a Private Message or bring them up on your own during roleplay.)
.::The Location::.